Think You'll Get Stuck… You Won't!
The more screws you install, the better your traction (especially with small solid tires).
You'll be driving your forklift in conditions you never thought possible. You'll be able to plow snow on glare ice, and not just an inch or two. Traction will be enhanced by adding additional weight on the forks.
#1200 provides excellent traction for plowing, yet enable you to drive inside. We've had no complaints about damage to concrete floors as they barely extend beyond the tires tread. (1/32″ – 1/16″) #1200 can make minor scratches to concrete surface treatment when new and the carbide is sharp.
#1600 (a bit more aggressive) will chip concrete floors, while either size can be used safely on asphalt.
You'll be surprised with how well they work and impressed with how well they're made. Of the two European manufacturers, ours have wider treads, so they don't sink into the rubber or fall out. In fact, you'll probably never lose one unless your tires wear out.
Order Now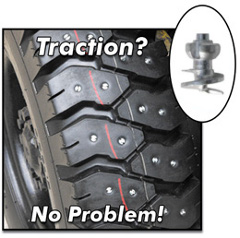 Tread Depth Minimum Requirements
11 mm or 7/16″ for Pneumatic Tires
20 mm or 3/4″ of Rubber for Solid Tires
How We Started Using Traction Screws
We are a National Distributor wholesaling to forklift companies throughout the US and Canada.
We are very likely, the first to have used traction screws in forklift tires. For years we ran tire cables made for auto tires. We rigged them, but they worked reasonably well. During the time we were developing our original plow, we contacted the cable manufacturer to have the cables made for forklifts. No one had a solution to the forklift traction problem. That's when we discovered these (carbide tipped) tire traction screws, used mainly for motorcycle ice racing. Long story short, we tested them and haven't looked back.
Installation is quite simple.
Traction screws can easily be screwed into the rubber treads using a variable speed drill. You have the option of leaving them in year round. (They are carbide tipped. We doubt you'll wear them out.) As a second option, they are also easily removed when your winter season is over. (install = 1 hr per 27″ tall tire)
WORKING HOURS
Mon-Fri 8AM – 5PM (EST)
If you don't love it, we'll take it back. Simple as that!